With 48 states now reporting confirmed cases of carbapenemase-producing CRE,1 state health departments from Alaska to Florida have implemented CRE reporting requirements. Many of these guidelines, like those from Illinois, Maryland, and Texas, specifically mention PCR tests for KPC, VIM, IMP, NDM, and OXA-48-like carbapenemase genes as important tools for quickly identifying CRE. States like Oregon also point out that the highly transmissible carbapenemase-producing CRE detected by PCR tests are of particular concern and require an institution's "most aggressive control measures" when identified. A common theme throughout the reporting regulations is the importance of timeliness in the detection and reporting of CRE, with some states requiring notification in as little as 24 hours.
APIC's Summary of State CRE Reporting Requirements consolidates guidelines from many of these states into a single resource. What does your state require? Remember to follow the links in the document to access the complete and most up-to-date version of each policy.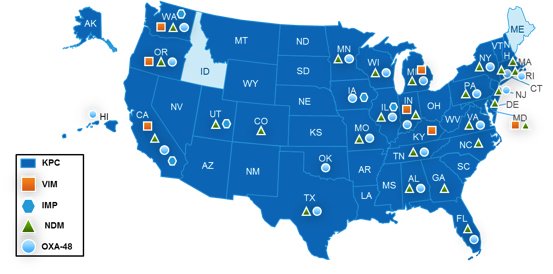 Reported cases of carbapenemase-producing CRE as of April 2016.
Source: http://www.cdc.gov/hai/organisms/cre/TrackingCRE.html updated April 2016.