The American Journal of Infection Control published a study out of the Veterans Health Administration (VA Health System) — the largest integrated health care system in the US — highlighting its continued success reducing MRSA rates system-wide using a program centered around on-demand PCR surveillance testing.1 Over an 8-year period, the initiative is credited with reducing MRSA healthcare-associated infection (HAI) rates by:
87% in ICUs
80% in non-ICU settings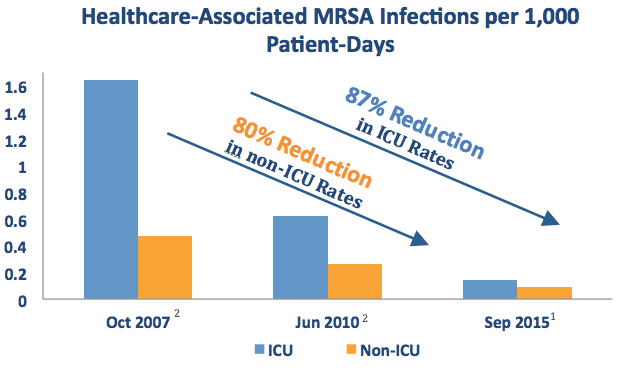 As noted in a separate publication in 2016,3 the VA also deemed this initiative to be cost effective.
The authors of the most recent article credit active surveillance testing with playing a critical role in their long-term success reducing MRSA rates:
We speculate that active surveillance was the primary driver of the downward trends seen in the VA because MRSA HAI rates had not changed before October 2007 when the Initiative was fully implemented, even though formal recommendations for hand hygiene and device-related infection control bundles had been in place for several years."
Click here to read the full open source article.
References:
1. Evans ME et al. Am J Infect Control. 2017;45:13-6.
2. Jain R et al. N Engl J Med. 2011;364:1419-30.
3. Nelson RE et al. Am J Prev Med. 2016;50(5S1):S58-S65.