Reduced empiric antibiotic therapy with rapid molecular testing for C. difficile
Compared with traditional testing methods*, on-demand PCR testing with Xpert C. difficile resulted in:
20% fewer patients receiving empiric antibiotic therapy
62% reduction in days of empiric therapy (2.3 vs 0.9 days; P = 0.007)
3.33 fewer doses per patient administered
42% fewer tests performed (per patient)
No increase in total cost of care (despite higher price-per-test)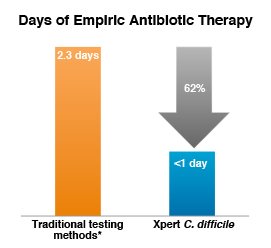 * C. DIFFICILE TOX A/B II EIA Test (TechLab).
Peppard WJ and Ledeboer NA. Implementation of Polymerase Chain Reaction to Rule Out Clostridium difficile Infection Is Associated With Reduced Empiric Antibiotic Duration of Therapy. Hosp Pharm. 2014;49:639-43.