Faster detection of MRSA and S. aureus from positive blood cultures optimizes treatment decisions & outcomes
On-demand molecular diagnostic testing with Cepheid's Xpert MRSA/SA BC plus antimicrobial stewardship intervention resulted in a reduction in:
Mean time to optimal antibiotic therapy of 1.7 days
Mean length of stay of 6.2 days
Mean hospital costs of $21,387 per patient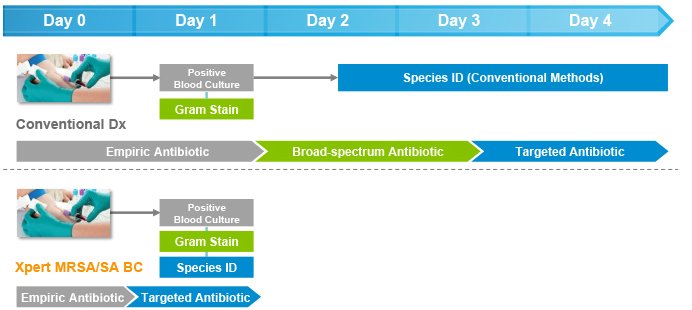 Bauer KA, West JE, Balada-Llasat JM, et al. An antimicrobial stewardship program's impact with rapid polymerase chain reaction methicillin-resistant Staphylococcus aureus/S. aureus blood culture test in patients with S. aureus bacteremia. Clin Infect Dis. 2010 1;51:1074-80.